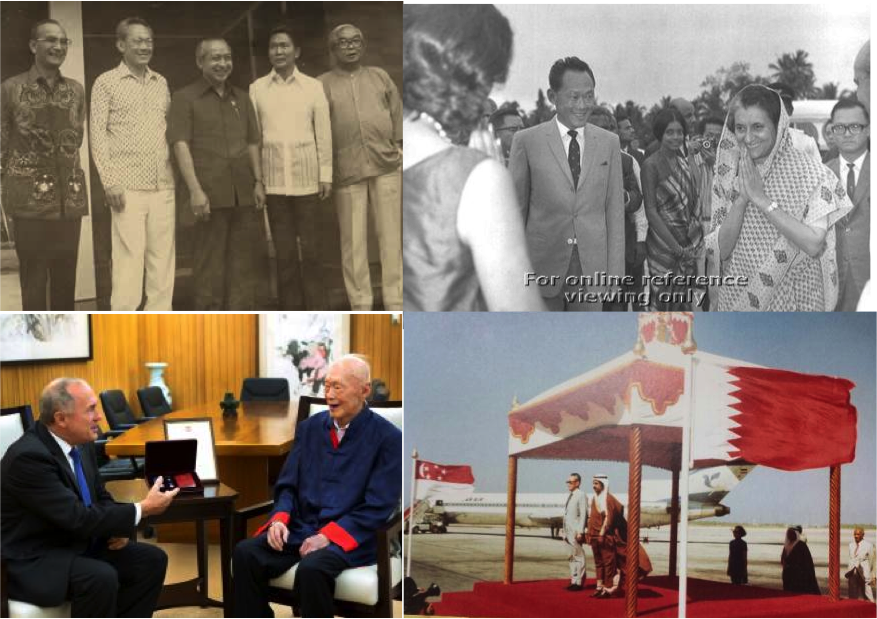 (Clockwise, from top left)
Mr Lee (second from left) with his ASEAN counterparts at the first ASEAN Summit held in Bali in February 1976.
Greeting the late Indian Prime Minister Indira Gandhi (right) when she visited Singapore on 19 May 1968.
A grand welcome in Bahrain for Mr Lee during his visit in June 1978.
Ambassador of the Russian Federation Leonid Moiseev presenting the Order of Honour to Mr Lee on 6 January 2014 in recognition of his contributions to strengthening Singapore-Russia ties. Mr Lee had earlier been conferred the Russian Order of Friendship by President Dmitry Medvedev on 15 November 2009.
A remarkable statesman
Over the years, he developed close personal friendships and rapport with many world statesmen – including Henry Kissinger, Helmut Schmidt, George Schultz and George W Bush. This paved the way for succeeding generations of Singapore leaders to engage closely with world leaders.
Today, Singapore maintains diplomatic relations with more than 180 countries and has 49 overseas missions.