Adversity into opportunity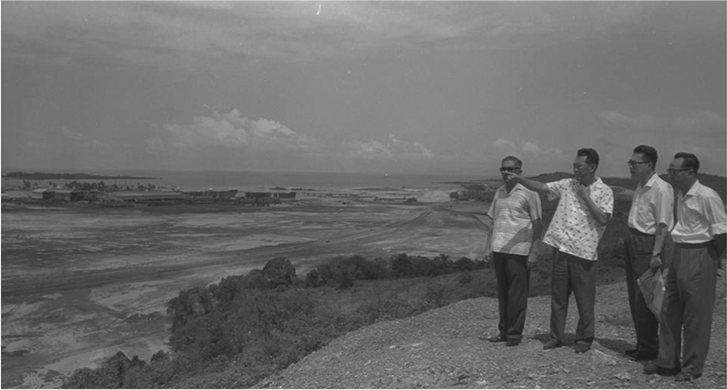 (From left) President Yusof Ishak, Mr Lee, Economic Development Board Chairman Hon Sui Sen and Public Services Commission Chairman Dr Phay Seng Whatt surveying the site of the upcoming Jurong Industrial Estate from the top of Reservoir Hill on 10 May 1964.
Adversity into opportunity
Many saw a bleak future for Singapore, a nation of immigrants with neither natural resources nor a hinterland to count on.
Unemployment was high at 10%. The British withdrawal from its bases in 1971 would mean the loss of another 40,000 jobs.
Mr Lee and his economic team – Dr Goh Keng Swee, Mr Lim Kim San and Mr Hon Sui Sen – embarked on an export-oriented industrialisation strategy to create jobs. Unusual among newly-independent countries of that time, Singapore welcomed Multi-National Corporations (MNCs).
The various policies implemented in the immediate post-independence years resulted in massive economic and social progress for the people. By the end of the 1970s, unemployment had fallen to 3% and growth was averaging 10% per annum.