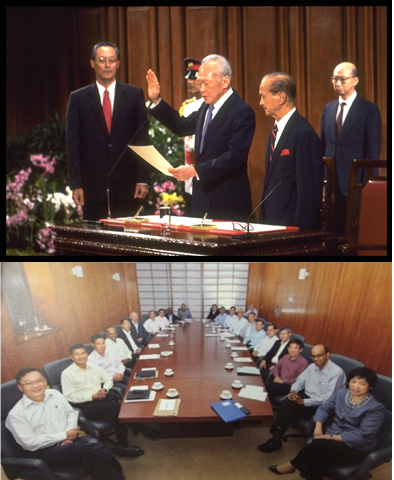 Ensuring a smooth transition: (top) Prime Minister Goh Chok Tong and President Wee Kim Wee witnessing the swearing-in of Mr Lee as Senior Minister on 28 November 1990.
Mr Lee (sixth from left) attending his last Cabinet meeting at the Istana on May 19 2011.
Mr Lee had once remarked that a leader's toughest job was to ensure succession. He worked hard to ensure a smooth leadership transition to the next generation.
He handed over the reins of the prime ministership to Mr Goh Chok Tong on 28 November 1990, but continued to advise the government on important issues for another 21 years, first as Senior Minister under Mr Goh and then as Minister Mentor under Mr Lee Hsien Loong.
On 14 May 2011, a week after the General Elections of 2011, Mr Lee and Mr Goh announced their decision to quit the Cabinet so as to give Prime Minister Lee a "fresh, clean slate" with which to govern.
The 87-year-old noted that it was the "right thing to do" and would send a clear message of a "break from the past."
He continued to serve as the Member of Parliament for Tanjong Pagar, a constituency he had held, without a break, since 1955.