Putting Singapore on the world map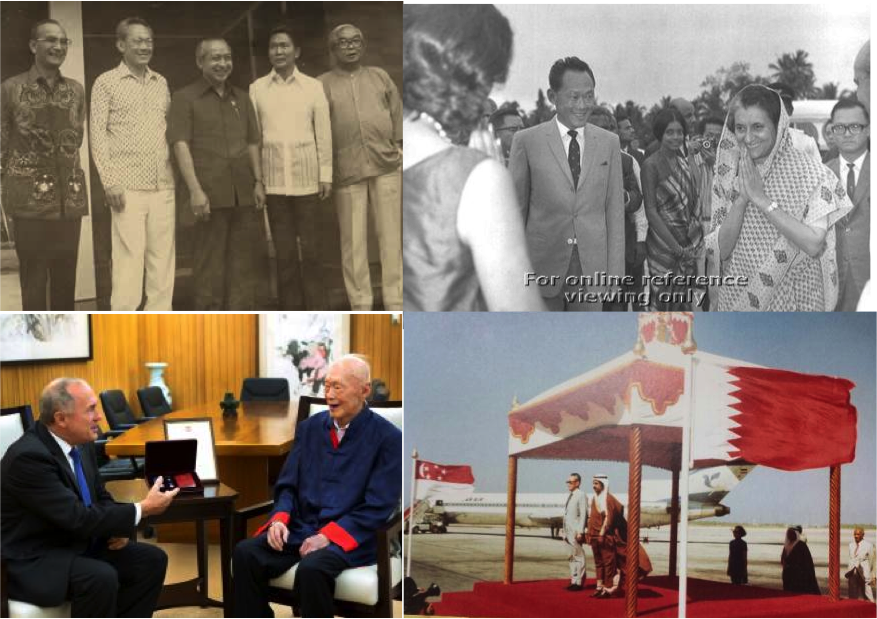 (Clockwise, from top left)
Mr Lee had the rare honour of addressing a joint session of the United States Senate and House of Representatives on 9 October 1985. Behind Mr Lee are (left) Vice-President George H. W. Bush and Speaker of the House of Representatives, Tip O'Neill.
Mr Lee exchanging gifts with Chinese President Jiang Zemin during a visit to China on 8 June 2001.
Mr Lee exchanging a warm greeting with Indonesian President Suharto upon his arrival in Jakarta on 7 September 1982.
Mr and Mrs Lee with the late Cambodian King Norodom Sihanouk and his wife during the monarch's visit to Singapore in December 1962.

Mr Lee understood the vulnerability of small states such as Singapore, and believed that "a small country must seek a maximum number of friends, while maintaining the freedom to be itself as a sovereign and independent nation".
Together with Mr S Rajaratnam, Singapore's first Foreign Minister, Mr Lee moved quickly to boost the country's standing on the international stage.