Putting Singapore on the world map 2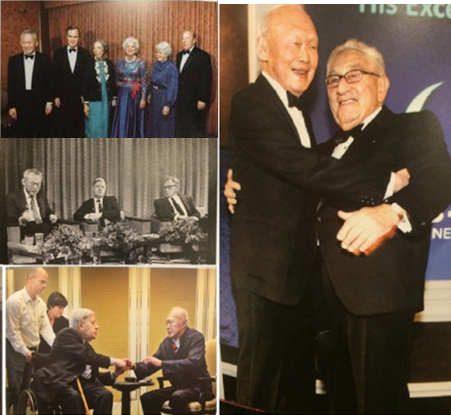 (Clockwise, from top left)
Mr Lee met with every single US President since 1967, including then-Vice-President H. W. Bush, pictured here at a dinner in October 1985 with (from left) Mrs Lee, Mrs Barbara Bush, Mrs Helena Schultz and then-Secretary of State, George Schultz.
Dr Henry Kissinger giving Mr Lee a hug just before Mr Lee received a lifetime achievement award from the US-ASEAN Business Council on 27 October 2009.
Former Chancellor of West Germany Helmut Schmidt travelled to Singapore to meet Mr Lee on 7 May 2012.
(From left) Mr Lee, Mr Schmidt and former US Secretary of State Henry Kissinger in their prime, discussing world economic problems on Japanese television in 1983.
Between 1959 and 2012, Mr Lee made at least 304 official trips to 83 countries. A world-class strategic thinker whose insights were sought by world leaders, he was instrumental in forging a place for Singapore in the international arena.
Singapore was admitted to the United Nations on 21 September 1965. Less than two years later, on 8 August 1967, it became one of the five founding members of the Association of Southeast Asian Nations (ASEAN).